October 31, 1991 - It was the beginnings of a major snowstorm that significantly impacted Minnesota, Iowa, and Wisconsin as a low pressure system developed near Galveston, Texas and strengthened over the Upper Midwest as it moved northward.  The storm system had ample moisture from the Gulf of Mexico to work with, which resulted in high snow totals.  During this long duration event, snow fell continuously for up to 72 hours, and at a rate of two to three inches per hour at times.  Once the snow finally stopped, it would be one of the most impressive early season winter storms in history across the area.
While it was significant for residents of the Upper Midwest, much of the nation's attention was turned to "The Perfect Storm", a separate system brewing over the Eastern Seaboard.  This east coast storm would become the subject of a novel written by Sebastian Junger, and later adapted into a Hollywood film.  Having two exceptionally strong storm systems impacting the continental United States at the same time is quite rare.  Depicted below is a plot of the Halloween storm system across the central United States from the National Weather Service in Duluth.
The "Halloween Blizzard" was made possible by a strong Arctic cold front that surged south through the central United States during the final days of October.  The high temperature in the Twin Cities was 65 degrees on October 29th, more than ten degrees above normal.  The next day high temperature in the Twin Cities dropped more than 30 degrees as the mercury reached 32 degrees.  Here is an animated surface map between October 28 and November 3, 1991.  Click for a larger image.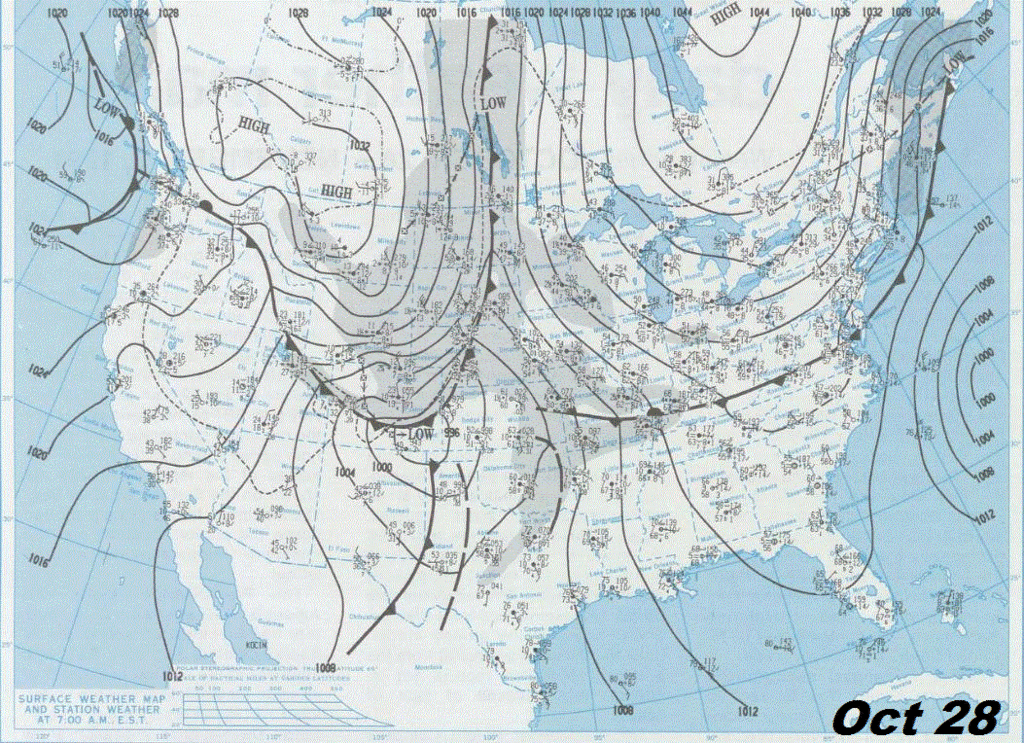 This would be a storm that caught meteorologists and the public off-guard.  Early forecasts from the National Weather Service called for rain across central Minnesota on Halloween.  As Halloween came, the forecast was adjusted for the anticipation of wintery weather with a winter storm watch issued by the National Weather Service in the Twin Cities at 4:00 AM for the potential of a foot of snow.  Snow moved into southern Iowa during the day on October 30th, and then spread into northern Iowa and Minnesota early on October 31st.  Warm air aloft wrapping around the low pressure area caused the snow to change into a mixture of snow, sleet, and freezing rain by mid-morning across portions of southern Minnesota and eastern Iowa.  By 11:30 AM in the Twin Cities, snow began to fall, much earlier than anticipated, and a winter storm warning was issued soon after.  Snow began in Duluth around 1:00 PM.  Kids attempted to trick-or-treat with coats and boots, and pumpkins were covered with a snowy blanket.  8.2 inches of snow fell by midnight on Halloween at the Twin Cities International Airport.  Not only was it a record amount for October 31st, but it was the most snow for the month of October ever in the Twin Cities.
As the calendar transitioned from October to November, the storm system intensified and the low pressure center moved to southeast Iowa by the morning.  During the early morning hours, meteorologist Paul Huttner estimated about 12 to 15 inches of snow on the ground at 3:30 AM in Minnetonka as he left for work at WCCO-TV.  Across the Twin Cities, snow removal became increasing difficult as the snow had started falling on warm pavement, melted, and then formed icy ruts on the roads as the liquid froze.  Roads were described by some motorists as a "washboard".  The affects were paralyzing.  900 businesses and schools closed throughout Minnesota.  No travel was advised by State Patrol.
A new snowfall record was set for November 1st as 18.5 inches fell at the Twin Cities International Airport, and one to three inches of ice accumulated from southwest Iowa to southeast Minnesota. It would be one of the costliest ice storms in Iowa's history as utility damage totaled $63 million, and 80,000 homes were without power.  Crop damage was estimated around $5 million.  In south central and southeast Minnesota, 11 counties were declared federal disaster areas due to the ice storm.  Damage in Minnesota was $11.7 million.
On November 2nd, the storm became a blizzard when the low pressure center passed over Lake Superior, and created winds up to 50 MPH, with gusts to 60 MPH.  Blizzard warnings were issued as visibilities were limited to near zero across eastern South Dakota, Minnesota, western Iowa, and extreme western Wisconsin.  Blowing snow had been ongoing in Duluth since 2:00 PM on November 1st, and continued for 33 consecutive hours.  The snow ended in southeast Minnesota, southwest Wisconsin, and northeast Iowa by midday.  The Twin Cities picked up 1.1 inches of snow this day.
The heaviest snow ended by November 3rd as the area of low pressure eventually became occluded, and then dissipated as it pushed east into northern Ontario, Canada during subsequent days.  Six tenths of an inch snow fell at the Twin Cities International Airport.  Behind it, colder air filtered in.  The temperature dropped to a low of -3 degrees at the Twin Cities International Airport on November 4th, the earliest below zero reading during the season since records began in 1872.
In the Twin Cities, the Halloween winter storm dropped 28.4 inches of snow, a record single storm total that still stands today.  A record 21 inches of snow fell in a 24-hour period.  Areas along the north shore of Lake Superior received over three feet of snow.  36.9 inches of snow fell on Duluth, a state record for storm total snowfall until 1994.  Many areas from the Arrowhead region through south central Minnesota picked up at least a foot of snow.
During the peak of the storm, a 180 mile long stretch of Interstate 90 from the South Dakota border to Rochester, MN had been closed, and stranded motorists took shelter in Albert Lea.  Unfortunately, this storm came with fatalities.  At least 20 people died in Minnesota due to traffic accidents or heart attacks from digging out after the storm. In addition, two Wisconsin hunters died when their boat capsized on Lake Onalaska during the storm.  The Halloween blizzard of 1991 was ranked number three by Minnesota's climate community for significant Minnesota weather or weather-driven events of the 20th Century.  Only the Dust Bowl of the 1930s and the Armistice Day Blizzard of 1940 were ranked higher.
Additional information on the Midwest Halloween storm:
RS